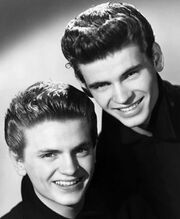 The Everly Brothers were American country-influenced rock and roll singers, known for steel-string guitar and close harmony singing. Isaac Donald "Don" Everly (born February 1, 1937) and Phillip "Phil" Everly (January 19, 1939 – January 3, 2014) were elected to the Rock and Roll Hall of Fame in 1986 and the Country Music Hall of Fame in 2001.
Ad blocker interference detected!
Wikia is a free-to-use site that makes money from advertising. We have a modified experience for viewers using ad blockers

Wikia is not accessible if you've made further modifications. Remove the custom ad blocker rule(s) and the page will load as expected.