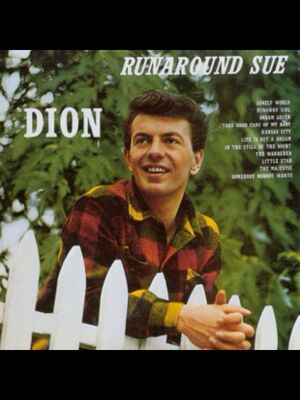 Runaround Sue is Dion's solo album released in 1961.
Track listing
1. Runaround Sue
2. Somebody Nobody Wants
3. Dream Lover
4. Life Is But A Dream
5. The Wanderer
6. Runaway Girl
7. The Majestic
8. Little Star
9. Lonely World
10. In The Still Of The Night
11. Kansas City
12. Take Good Care Of My Baby
Ad blocker interference detected!
Wikia is a free-to-use site that makes money from advertising. We have a modified experience for viewers using ad blockers

Wikia is not accessible if you've made further modifications. Remove the custom ad blocker rule(s) and the page will load as expected.