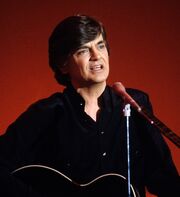 Phillip "Phil" Everly (January 19, 1939-January 3, 2014) was a member of The Everly Brothers along with his older brother,
Don Everly
(born February 1, 1937). Phil did the harmony on Dion's album, Streetheart
Phil died on January 3, 2014 of Cronic Obstructive Pulminary Disease (COPD)
Ad blocker interference detected!
Wikia is a free-to-use site that makes money from advertising. We have a modified experience for viewers using ad blockers

Wikia is not accessible if you've made further modifications. Remove the custom ad blocker rule(s) and the page will load as expected.